Pothole Repair in Dayton, Ohio
Defined. Pot-hole:ˈpätˌhōl A hole in the asphalt created from a weakening
of the underlying base support structure combined
with vehicle surface weight, which causes small
pieces asphalt to pop out of the area leaving a hole.
Smith and Sons Sealcoating and Striping: Pothole Repair Experts.
What causes a pothole?
Insufficient thickness of asphalt surface—cracks prematurely
No horizontal support—such as stone or concrete
Underlying stone base weakens due to water intrusion
Insufficient drainage–underground pooling of water
Water will freeze in the winter, raising the asphalt above
Frozen area thaws it sinks, causing the asphalt surface to crack into smaller pieces–alligatoring
Smaller pieces and eventually become loose and are extracted through vehicle traffic
Stone base is softened from the water reducing its strength to support heavy vehicle traffic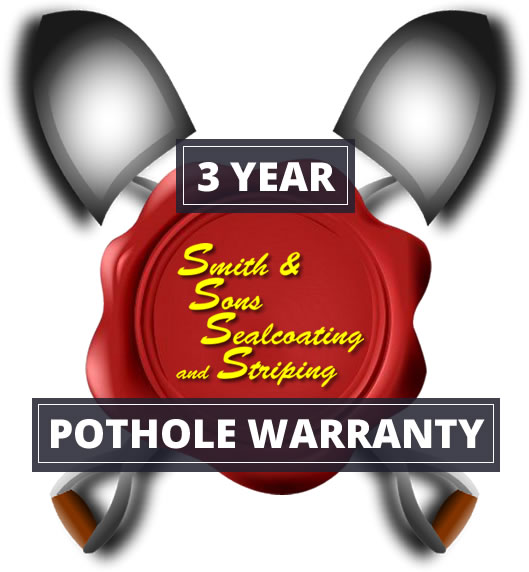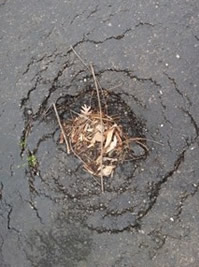 Sinking from Thawing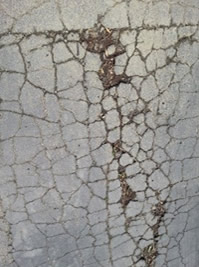 Alligatoring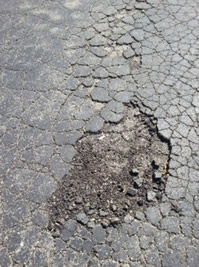 Insufficient Thickness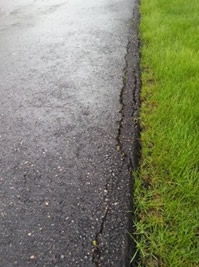 No Horizontal Support
"We had numerous potholes in our church parking lot, after a rough winter.  Smith and Sons did a great job filling them in, and 3 years later the repairs are still holding up.  We would recommend them to anyone looking for a reputable, honest asphalt repair company"
Living Water Lutheran Church
"This is the second time we have used Smith and Sons to repair and seal our parking lot, and they did an excellent job.  We are very pleased with their work, and highly recommend to anyone looking for a high quality, professional vendor. "
Steve at Boord-Henne Insurance
Repairing the Pothole. Our Process.
---
Preparation
Remove as much deteriorated asphalt needed to leave firm asphalt around the hole, leaving vertical sidewalls of asphalt for horizontal support
Remove loose asphalt and dirt out of the hole and/or compact any loose material left in the hole
Blow off dirt and debris from the surface of the asphalt surrounding the hole
To bond properly–Use a torch to heat up the areas that will come in contact with the hot asphalt
Apply a tac-coat product to the areas contacting the hot asphalt
Filling the Hole
Place hot-mix asphalt in the hole, about 1 inch higher in the center than the edges, and about 1 inch higher than surrounding asphalt
Use a vibratory plate compactor to compact the surface
Compact the numerous times in both directions to insure proper compaction
Video 1
Video 2
Video 3
Preserving the Repair
Seal around the edge of the patch, between the new and old asphalt, 

with a rubberized tar product to prevent water intrusion and snow plow 

extraction
Why should you fix a pothole?
To prevent the hole from getting bigger—preserving the asphalt around it.
To prevent any damage to customer's vehicles that could cost you money in repairs.
To prevent loss of patronage.
To prevent any personal injury claims.
To not detract from the overall appearance of the facility.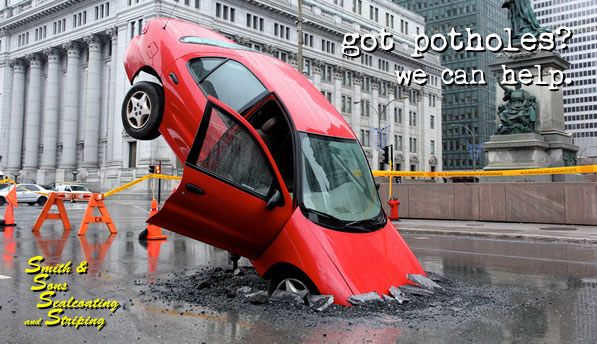 Let Us Help You with Your Next Pothole Repair Project
We get you out of the hole!
937-479-5453
Contact Us